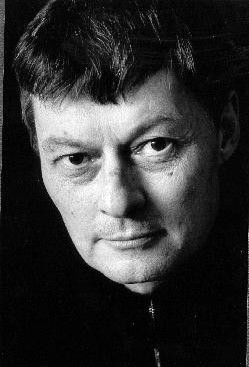 (Photo: Gorm Valentin)


Welcome to my website. On the Danish language pages, you can find detailed information on my own books and the works I have translated. This is the short version:

I was born 1949 in Silkeborg, Denmark. Spent my childhood in Elsinore, the right place for a future Shakespearean. Studied languages, but dropped out of university with half a degree in Russian language and literature and went on to do what I had always wanted to do: writing and translating. My first translations were poems by the Austrian expressionist Georg Trakl, published 1969, and the first of my own books was a collection of essays on everyday life in Moscow in the late seventies (I was a visiting student at the State University there), published 1980. After that, I turned to fiction – short stories, drama, and three novels so far. The first, "Ramoth-Bezer" (1994), and the third, "Havmanden" (2005), have been published in German as "Die erstaunlichen Gerätschaften des Herrn Orffyreus" (2007) and "Der Meermann" (2008, both translated by Ulrich Sonnenberg), and the second, "I lyset af en kat" (2000), has come out in German as "Die träumende Katze" (tr. Dagmar Lendt) and in Dutch as "De dromen van een kat" (tr. Edith Koenders).
My translations of mostly English, German, and Russian literary works, more than 200 titles, have usually been quite well received. They have earned me several awards, including the life-long grant from the Danish Arts Foundation, the Thornton Niven Wilder Award (Columbia University, New York), and the Übersetzerpreis der Kunststiftung Nordrhein-Westfalen. In 2011, Queen Margrethe II appointed me Knight of the Order of Dannebrog.
My main project in the years ahead (a project both delightful and daunting, to be honest) is to finish a complete new Danish translation of Shakespeare's plays and sonnets, made possible by the generous support of the Bikuben Foundation, the Danish Arts Foundation, the Augustinus Foundation and the A.P. Møller Foundation. Five of the planned six volumes of plays have been successfully published so far and well received by readers and critics.
Over the years, I have held posts in the Danish Writers' Association, the Danish Dramatists' Association, the Danish Arts Foundation, and the Danish Arts Council, and I have been writing reviews of literature, drama, and films for several Danish newspapers and magazines.
I am married to musicologist and opera singer Nila Parly, Ph.D., we live in Blovstrød, 30 km north of Copenhagen, and have two daughters, Zaina (born 1999) and Isala (born 2002).